Jens Christian Springmann, MBA, Dipl.-Ing. (FH), RS
Profession :
Certified Meditation & Mindfulness Teacher
Certified Reiki Practitioner – Level I, II, Master
Certified Positive Psychology Intervention Practitioner
Core areas:
Traditional Usui Ryoho Reiki/Jikiden Reiki

Personalized Guided Meditation

Energetic Centripetal Meditation

Work-Life-Sleep Balance
Life/Spiritual- & Target-State-Coaching

Mindful-Active Interventions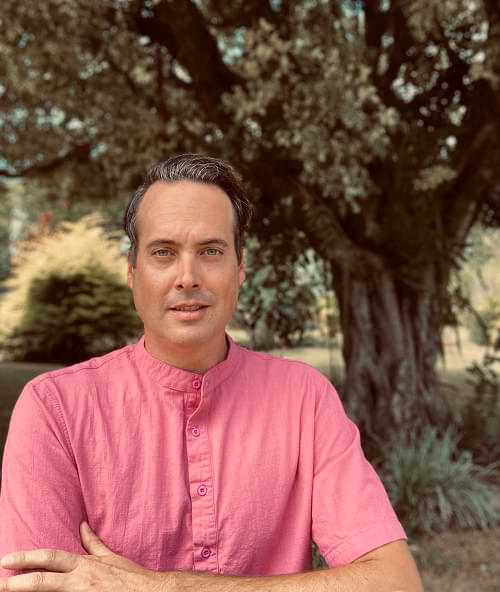 "Jens Christian Springmann was born in 1981 in Lahr, Blackforest, Germany, where he spent most of his life. Living in Arizona as a child for almost four years made him fall in love with America, and he came back for vacation, study, and since 2020, to work and live here with his wife and four daughters. Throughout his childhood, Jens always felt a strong inner spiritual connection and cannot remember being sick. Growing up, he lost the capability of consciously sensing this inner connection for some years. Jens served as a professional paramedic and later followed a career in engineering and management for 15 years. At 32, he had to admit that he internally felt unwell, even though the outside looked sublime. Jens says, "I noticed that I was moving too fast, working too many hours, hurting my body with extreme sports, and accumulating too much meaningless content". This tense situation helped him realize that it was the opposite he was inwardly seeking. Jens started practicing mindful interventions and meditation to reach a happier and more conscious state in life, first for himself, then helping others to do the same. After leaving his well-paid job in the European headquarters of a renowned US company, Jens professionally started sharing his meditation and interventions with others in his practice since 2016. Jens spent over ten years looking for, trying out, and working with alternative interventions to maintain and cultivate a healthy work-life-sleep balance through physical, mindful, and meditative practices. Jens spends his free time with his family, and he can be found painting in his studio, hiking nearby trails, paragliding, or taking an ice bath; he loves the stillness and beauty of nature, and especially the forest, desert, and ocean."
Which spiritual teachers did you meet or attend seminars with?
Dr.med. Ulrich Müller-Stoffels – longtime personal spiritual teacher
Dr. Anselm Grün – benedictine monk, priest, author, seminar leader
Dr. Wilhelm Schäffer – priest, author, seminar leader
Sri Tathata – Indian, vedish priest

Gerda Göppert – life coach, meditation teacher, seminar leader

Dr. Itai Ivtzan – School of Positive Transformation
Lisa Powers – Reiki Level I, II, Master
Tadao Yamaguchi, Jikiden Reiki, Kyoto, JP (Shoden & Okuden)
Which teachings do you mainly rely on?
Traditional "Usui Ryoho Reiki" – Dr. Mikao Usui
"The Power of Now" &"A New Earth" – Eckhart Tolle
"The Lessons of Kriya-Yoga" – Paramahansa Yogananda
"Die Rosenwelten" – Ulla Michalscheck
"A Course in Miracles" – Helen Schucman
"The Science of Mind" – Ernest Holmes
Traditional Reiki, by Usui and Hayashi Sensei
Other: Breathing, Artwork, Physical Exercise, Cold Exposure
What lets you qualify to be a helpful Reiki & Meditation Practitioner? 
I received my Meditation & Mindfulness Teacher certification and Positive Psychology Intervention Practitioner certification from the School of Positive Transformation, Boulder, Colorado. After my training in Western Reiki (Level I, II, Master), I have significantly improved my Reiki ability through training at the Jikiden Reiki Institute in Kyoto, Japan (Level Shoden & Okuden).
Besides the specific Reiki and Meditation trainings, essential for me is to bring appropriate characteristics, as well as readiness to transform, with me. Characteristics should be considered to be: high sensitivity, calmness to observe and listen, self-awareness, faith in a higher power, a sense of altruism, the capability to feel a communion with the Divine, understanding for the law of cause and effect, but also willingness to take these qualities and unite them into feeling responsible and appointed to act constructively upon them. This will cause oneself to make experiences out of which will grow self-knowledge. There can be no power to true words or interventions if they haven't been realized and experienced by oneself in a deep, compelling, and absolutely convincing manner.
There are many scriptures, lectures, workshops, and teachers that can support us during the process, but in the end, it is up to oneself as an individual and our readiness for transformation that allows us to reach a higher, more pure, and yet humble state of consciousness.
How long was your time of mindful and spiritual education?
The main period of my mindful and spiritual education lasted 8 years, including seminars, teachings, and traveling. But of course, this is not the reality, because it does not end here. And, it is not an education that is taking place; it is more a process of conscious awakening to a reality that is already inside of everyone. With our human, material imagination, and desires, we simply block and keep our true identity hidden. But we are not able to do so forever, which is why we may suffer at some point in life, with the purpose to finally arise to the beauty of our own being and free our mind from adverse ideas, thought patterns, and imagination – step by step.
What work experiences do you have from your past?
1999 – 2014: At a younger age, I earned a college degree in industrial mechanics, then served as a paramedic at the German Red Cross Rescue, continuing to do so part-time during my university study in Mechanical Engineering at the University of Applied Sciences in Offenburg, of which I graduated as a Mechanical Engineer. I moved on working for a renowned company in lean practices, where I was trained in target-state coaching, in the mentor/mentee principal, amongst others by Mike Rother (USA) and Hitoshi Takeda (Japan). Furthermore, I graduated from Steinbeis University Berlin with a Master in Business Administration, and worked for a renowned American company, supporting facilities in Germany, the Netherlands, and Hungary. Although my career was picking up and everything seemed to be perfect on the outside, my inner-satisfaction and well-being decreased. My approach of compensating this dissatisfaction through sports and adventures did not work any longer either. I felt the need to make a change and find a deeper meaning in life; and I did with great enthusiasm.
What then followed?
2012 – 2020: I began working more frequently with Dr.Müller-Stoffels on how to increase inner and unconditional satisfaction through reflection and correction of mindset. I visited seminars and spiritual teachers, and traveled. And I also found that target-state coaching I used before, is excellent to make steadfast steps in any personal, mental, and spiritual process – it is always about overcoming mental obstacles by finding the root cause. On my way, I noticed that the best coach is inside of me and was just waiting to direct me. Intense transcendent experiences were the result of my sincere and deep meditation practices (astral-prema-sundara-nirvikalpa samadhi), as well as a steady deep inner calmness. I recognized that my strength and abilities lie in mental and spiritual work. I started to develop my own technique of meditation and contemplation and founded my first office for life and spiritual coaching in Germany in 2015. In 2019 I decided to follow my wish to work and live in the US, which I carried inside of me after living in Arizona as a child.
What are the important places you have traveled to during your spiritual awakening?
Traveling without a precise plan was an important part of my awakening because it helped me to learn how to stay in the present moment and listen to my deeper voice in order to make pleasant experiences. Intuition and spontaneity let us experience a much higher quality of life and should be a greater part of our way of living, no matter what we do. I consider traveling as the practical section of my awakening to prove that there is something greater within us, that enables good for us, but also directs and guides us if we allow and listen to its voice. A busy mind will not allow this. I have found the rural areas of France, Switzerland, Italy, Crete/Greece, West Jordan/Israel, Germany, Mexico, Peru, Brazil, Japan and the US to be interesting and instructive. During my travels I have visited and spent months in more than 30, mostly Catholic but also Greek Orthodox monasteries, retreat centers, and guesthouses, where I have met with theologians and spiritual teachers, but also learning from sisters and monks, by joining, watching, and listening to their rituals and prayers.
When did you discover your true self for the first time?
I clearly remember having a first outside-body experience as a child with full awareness, as well as feeling a strong energy in my hands. After this happening, I have never been sick as a child over the years. But during my youth, and growing a young man, I almost completely lost this conscious inner spiritual connection. A difficult and painful journey started, which most people call the serious side of life. I was taught by my family, friends, instructors, society, pretty much everyone around me to work hard, fight for recognition, and act tough when things felt wrong. At the beginning of my 30's I found my way back to my true self.
What do you want to share with humanity during these times?
If we realize and accept that the greater meaning of life is to awaken to our true identity within ourselves, which is the pure essence of love and unconditional satisfaction; and that there can be no conflict outside of us that we could not solve within us, we will finally think about taking over the responsibility for our situation, emotions, and health. And no matter regarding the situation, we will always be able to change our own mindset to a peaceful and loving one. Then suddenly, there is so much we can do right now by ourselves. Pointing fingers, giving fault to others, instead of reflecting on our own way of thinking and feelings we carry inside, will not solve anything, and can only mean throwing oil on the fire. But freeing our own mind from adverse thoughts and sensations will immediately have a silent and peaceful effect for us and others around us. We should not forget to first create harmony and calmness inside of us, before we take action on the outside, whether it is helping others, standing up for freedom, expressing, or creating. What we really need is a peaceful and truly compassionate mind to overcome today's problems.